about...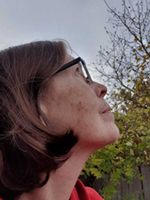 I'm a freelance designer and writer, working from my home in South West London. I design and maintain websites for individuals, small businesses and non-profit organisations, and create layouts for printed media. I also write and edit content for websites, newsletters and in-house publications.
Part of my work involves supporting clients who want to manage their own websites, usually consisting of step by step tuition over the phone followed up with written notes. My aim is to demystify the 'techie stuff' as far as possible, and I enjoy the challenge of translating it into coherent everyday language.
Outside working hours I spend quite a bit of time outdoors, either walking or in the garden, and enjoy taking photos on my smartphone to share some of the sights that catch my interest. You can see a selection of these in the gallery or on Instagram – @annecotgreave.
Recently I've started getting back to creative writing, after a very long gap. It's still early days, so in the meantime it semed a good idea to dust off some of my old pieces, to give myself a bit of a boost. You can find them here.
a bit of background
I was born and brought up in rural Kent, in a village on the edge of the Weald where it dips down to meet Romney Marsh. It's a place with wide views, farmland, woods, and lots of ponds, springs and streams. A place that never really leaves you, no matter how many years pass by.
For most of my adult life I've lived in South West London, and I now live in Barnes, a London 'village' situated in a northward loop of the Thames which borders it on three sides. My home is on a friendly estate dating from the 1930s, in a south-facing terrace of 6 houses, all with front and back gardens.
When we first moved here it was great to have a safe space for my growing son to play, get close to nature and race about with friends. And now I enjoy catching up with neighours as I work in the front garden, or getting down to earth in the back garden with its two little ponds and busy bird feeders.
This is a wonderful area for walks, with so much open space – Barnes Common, which includes Barnes Green and the Pond, Putney Common, the towpath, the Leg o' Mutton nature reserve, and Dukes Meadows just over Barnes Bridge in Chiswick. The big curve in the river gives wide views of water and sky, and the nearby London Wetland Centre is a haven for water birds with lots of open water, reminding me a little of Romney Marsh.
The only serious drawback is the planes – we're under a flight path into Heathrow Airport, and at peak times jets pass overhead every 30 seconds. Not fun, but my ears have grown accustomed to the sound, and on morning walks they usually manage to tune in to the birdsong rather than the aircraft noise. But indoors trying to concentrate – or indeed sleep – sometimes the only solution is to shut all the windows. Not ideal in summer, but I've learned to organise my working day around this as far as possible.